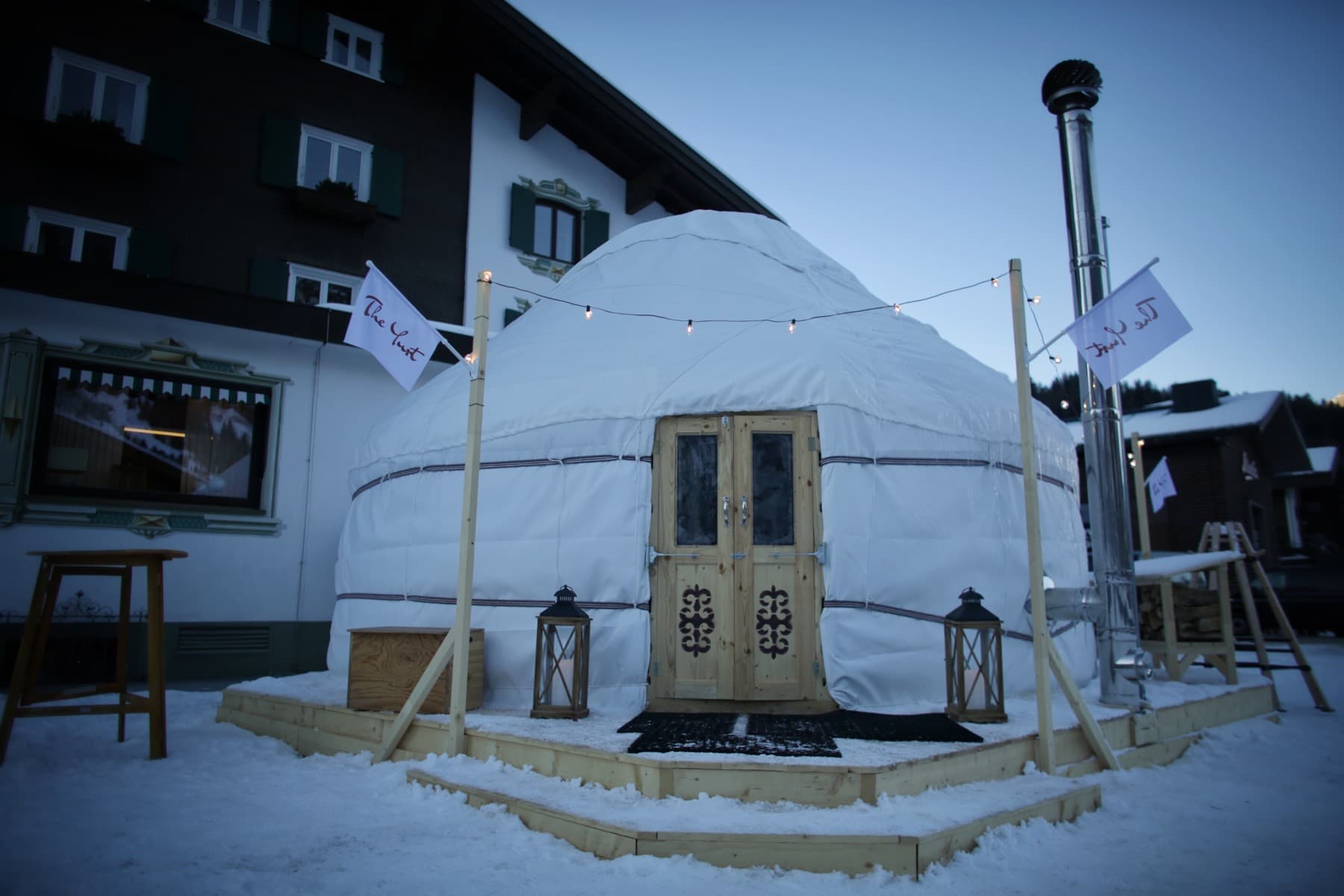 The Yurt, Season IV
When Zayad Shah's nomadic Kyrgyz tent makes a guest appearance in Lech, right in front of the remarkable Hotel Arlberg, for the fourth time already – Arlberg guests have a different idea of what a living room should offer.
It may have something to do with the fact that "there's an igloo like no other on the whole Arlberg" – or so a German couple was advised. They open the wooden door, tilt their heads slightly to get inside the willow dome, which is bigger than it looks from the outside, and see people in T-shirts. The round space is warm and cozy, the Japanese Roku gin mixes with the great tonic from Le Tribute. Before you know it and have awakened the other spirits from the Japanese "House of Suntory", (Toki Whiskey or Haku Vodka) the time spent is a good one. It was no different for the German couple when they came back with the rest of their family, from their 20-year-old grandchildren to their 80-year-old grandparents.
Simplicity before stars
A deliberately simple nomad tent in the middle of Lech, on the forecourt of the renowned 5* Superior Hotel Arlberg. Even in the fourth winterseason of The Yurt, this is still an announcement on the Arlberg, arousing curiosity among guests from all over the world. The tent is made by only natural materials and operated with low power. The yurt's felt blanket stores the heat very well and it gets warmer with each new guest, a maximum of 35. The CO2 footprint remains exemplary. No wonder that the directors of the Hotel Arlberg Benjamin Schneider and Patrick Krummenacher were taken with the concept of the yurt:
"The Yurt is a refreshing addition to Lech and the offer of our hotel. Guests come to the tent for drinks before dinner or for a nightcap afterwards," says Benjamin Schneider, "Like us, Zayad Shah focuses on quality, understatement and the joy of hosting."
Meets well
As young as the history of the yurt is so far, the temporary bar has already developed into an event space. The tent can be used in many ways, for example for fireside chats on the future of gastronomy and tourism, private or corporate parties or as a space for pop-up shops. With a bit of luck, you will visit the yurt exactly when friends of Zayad Shah are visiting, such as Silvia Gattin, who will again be using the tent as a pop-up shop for her label SILVIA GATTIN in the beginning of January. Or on one of the evenings when winemakers who are on the deliberately small drinks menu, such as Jürgen Trummer present their wines and host the tent together with Zayad Shah.